On 22 February 2022 Russia invaded Ukraine.
Last summer Folgate Legal decided to sponsor a unity charity football match between a Polish and a Ukrainian team at the Weston Homes Stadium, the home of Peterborough United. It was a bittersweet moment for Marc Folgate who had aspired to sponsor a match at the stadium, but not in these prevailing circumstances. However, the event was a great success, as reported by the Peterborough Telegraph in the link below, with more than £10,000 raised for humanitarian aid.
https://www.peterboroughtoday.co.uk/news/people/ukraine-crisis-poland-vs-ukraine-charity-match-at-peterborough-united-raises-over-ps10000-3704922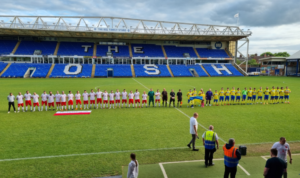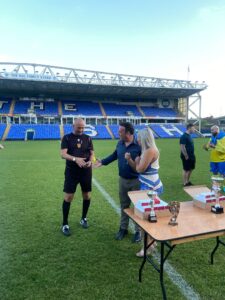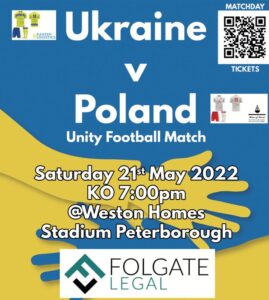 The host of the event was Darren Ferreday who is an enthusiastic, locally-based fundraiser and campaigner on behalf of Ukraine. The Folgate Legal team became more involved in taking humanitarian aid to a designated point in the locality to be transported onwards by a network of volunteers, Darren included. They have made numerous trips to Ukraine to distribute the aid, including our contribution to it which came in the form of sanitary towels, plasters, bandages, dried meals and hand sanitiser.
More than one year on and encouraged by Darren, Marc took a visit to the western Ukrainian city of Lviv. Darren had correctly pointed out that businesses such as restaurants, bars and hotels were still trying to make a living despite the war that was raging on the other side of the country. He said that they would welcome the feeling of normality that tourists brought, as well as, of course, any money that they spent. The Folgate Legal banner that had been created for the football match therefore travelled to Ukraine from Peterborough, where Darren stood with Marc in Lviv for a photograph.
Marc reflects on the poignancy and positivity of his time in Lviv:
"I was bowled over by the way in which life continues, looking almost normal, on the face of it. But it isn't normal. I suppose for these poor people it has become the "new normal". The normal co-exists with the abnormal. So, on the face of it, people go out, drink coffee and even attend the opera. Only a little while afterwards do you notice that the ratio of men to women has changed, because of the war. As we made our way out, visiting shops with plentiful produce, we were stopped by the sound of a trumpet and one of the saddest scenes I have ever witnessed, as some of Lviv's fallen were returned to their city on their final journey home. I will never forget the looks on the faces of the girlfriends, mothers, wives and children, following the hearses. Almost hollow and numb. But the procession passes, and life gets back. But not to normal."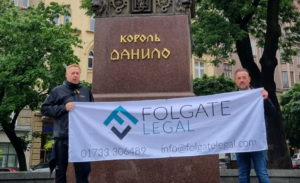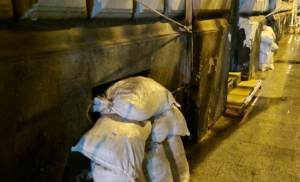 Today, on Ukrainian Independence Day, we are reminded of our connection, and how this was made.